Appalachian Hardwood Manufacturers, Inc.
Certified Sustainable & Legal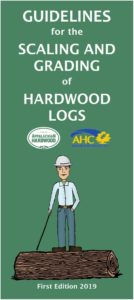 Dear AHMI members and friends:
Appalachian Hardwood Manufacturers Inc. and the Appalachian Hardwood Center from West Virginia University invite you to participate in a workshop and demonstration introducing "Guidelines for Scaling and Grading Hardwood Logs."
This news publication was developed by the two groups to help landowners, loggers, sawmills and brokers understand scaling, grading and valuing hardwood logs in the United States. The US Forest Service (USFS) began hardwood log grading in the 1940s by gathering data from logs and the lumber produced from them. A standardized hardwood log grading system was designed to meet the day to day needs of the USFS on National Forests. Finalized in 1966, the USFS system has had no additional documented development.
The 2019 Guidelines explain:
Best forest management practices
Log scaling including diameter; log length; defects; and how to determine volume with the four scaling systems
Log grading with illustrations on diameter and clear faces
There will be a presentation, workshop and log yard demonstration on Nov. 12-13 in Johnson City, TN. Guidelines author Curt Hassler of AHC will speak at the Nov. 12 meeting of the Appalachian Lumbermen's Club at The Carnegie Hotel in Johnson City, TN. The reception is at 6pm, dinner at 7pm and program at 7:30.
There will be a class on Nov. 13 from 8:30-10:30 a.m. at The Carnegie Hotel to detail the Guidelines. The group will move to Parton Lumber's log yard in Hampton, TN, for a field demonstration at 10:30 a.m. An informational lunch will follow at 12:30 p.m.
There is a fee for the Tuesday dinner and ALC Meeting for non-members of the club. There is no cost for the workshop and demonstration. Lunch will be on your own. Hotel rooms are available at The Carnegie by calling (423) 979-6400 and ask for the Appalachian Lumbermen block. Room reservations must be made by Oct. 12. You may attend the workshop and demonstration on Wednesday only. Please contact AHMI.
You may register for the ALC Meeting online here. To register for Wednesday's workshop/demonstration only, please contact the AHMI office at (336) 885-8315.
Continuing Education Credits of four (4) hours have been applied for with the Society of American Foresters.
Regards,
Tom Inman
AHMI President
(336) 885-8315 office