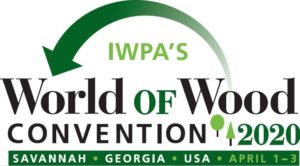 2020 World of Wood Convention Will be Held
as Virtual Meeting Due to Coronavirus
Annual Gathering Hosted by International Wood Products Association Reimagined
Alexandria, Virginia – The 2020 World of Wood Convention is being reimagined as the first-ever Virtual World of Wood Convention from April 1-3, the International Wood Products Association (IWPA) announced today. Escalation of the spread of coronavirus (COVID-19), which the World Health Organization today characterized as a pandemic, has led to concerns being raised by attendees, exhibitors, and speakers who have been prohibited from traveling due to government travel advisories and bans as well as employer restrictions on attendance at large meetings, among other reasons. In response, IWPA has decided to transition from its industry gathering in Savannah, Georgia to a virtual event.
"The well-being of attendees and our community is our number one priority. We have been closely monitoring the progression of the coronavirus and it is with deep regret that we announce that the 2020 World of Wood Convention will not take place in Savannah," IWPA President Kenny MacMaster of Argo Fine Imports said. "Given the alarming spread of the virus in the U.S. and more than 100 countries, U.S. health officials have stressed the importance of limiting mass-gatherings in order to 'flatten the curve' to slow down the rate of advancement of the coronavirus. Therefore, we feel that transitioning to a virtual conference is the most prudent decision at this time."
IWPA Executive Cindy Squires is confident that IWPA will be able to deliver the value of World of Wood attendance utilizing video conferencing tools. "While we are disappointed that our attendees won't be able to come together in Savannah, transitioning to a Virtual World of Wood on the same dates that they were scheduled to be in Savannah will allow them to access industry leading business intelligence and critical information remotely," said Squires.
IWPA invites all attendees to aid in the effort to control the spread of COVID-19 by following U.S. Centers for Disease Control and Prevention interim guidance on large community events and embrace video conferencing.
All registrants will automatically be enrolled in the Virtual World of Wood. IWPA staff will follow up with all registrants with detailed information about how to participate in the Virtual World of Wood.
Further updates about Virtual World of Wood will be posted on the 2020 World of Wood website.
Established in 1956, the International Wood Products Association (www.iwpawood.org) is the leading international trade association for the North American imported wood products industry, representing 220 companies and trade associations engaged in the import of hardwoods and softwoods from sustainably managed forests. Association members consist of three key groups involved in the process: U.S. importers and consuming industries, offshore manufacturers and the service providers that facilitate trade.