WEBCAST: The COVID-19 Outlook & Its Global Economic Impact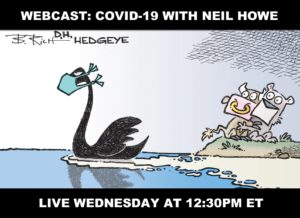 The spread of COVID-19 has impacted countries around the globe. The virus has now spread to 110 countries in every continent except Antarctica.
The human cost is already high and rising. There have been 113,437 confirmed cases – and tragically 3,996 deaths. The number of cases outside of China continues to double every four days.
Fear is rising alongside the spread of the epidemic's transmission. Political leaders have declared emergencies. Global equities are plunging. Volatility is soaring.
In all the commotion, there's a pervasive sense of fear, uncertainty and doubt…
That's why we're hosting this webcast.
We invite you to join Hedgeye Demography analyst Neil Howe on Wednesday, March 11 at 12:30pm ET as he analyzes the impact of COVID-19 and takes questions from the audience. (CLICK HERE for free access).
Is this now a pandemic?
What's actually happening in China?
How should we think about the timing of the epidemic, the ultimate death toll, the policy response, and its impact on the real global economy?
We'll answer all of these questions (and more) in this must-watch webcast with Neil.
-Hedgeye
P.S. If you feel so inclined, we invite you to send this webcast to anyone interested in learning more about COVID-19. This webcast is completely free. A video replay will be available shortly after the broadcast for anyone unable to join us live. Simply click the FREE ACCESS button below.
ABOUT HEDGEYE
Hedgeye Risk Management is an independent investment research and online financial media company, focused exclusively on generating and delivering thoughtful investment ideas in a proven buy-side process. The firm combines quantitative, bottom-up and macro analysis with an emphasis on timing.
The Hedgeye team features some of the most highly-regarded research analysts on Wall Street, covering Macro, Financials, Energy, Healthcare, Retail, Gaming, Lodging & Leisure (GLL), Restaurants, Industrials, Consumer Staples, Internet & Media, Housing, Materials, Technology, Demography and Washington policy analysis, including Macro, Energy, Healthcare, Telecom & Media and Defense.