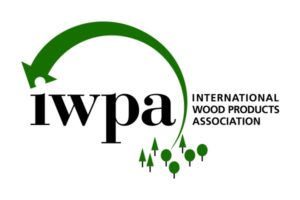 For Immediate Release
April 11, 2019
Media Contact: Mike Burita 202.420.9361 or mike@buritamedia.com
IWPA's 2019 World of Wood Convention Wraps Up with New Insights on
the Global Trade War and Regulatory Compliance
More than 270 Attendees from 27 Countries Gathered in Tucson for 63rd Annual Meeting—
Networking, Innovative Business Solutions, and Market Intelligence
Alexandria, Virginia – The state of the trade war, compliance with Prop 65 and formaldehyde labeling, and emerging supply chain technologies were among the leading topics of discussion at the 63rd World of Wood Annual Convention in Tucson, Arizona. The annual gathering of the International Wood Products Association (IWPA) closed with the traditional passing of the gavel from Immediate Past President Caroline McIlvain of J. Gibson McIlvain Company to Incoming President Kenny MacMaster of Argo Fine Imports. IWPA also welcomed new IWPA Board Members Bryan Courtney of Robert Weed Corporation, Jay Jones of South Jersey Port Corporation, Stewart Sexton of AHC Import, and Anthony Theriot of Port of Port Arthur, and recognized David Weed of Robert Weed Corporation for his many years of service to IWPA as a board member and industry leader. Current Board Members Elizabeth Baldwin of Metropolitan Hardwood Floors, Chris Connelly of Wood Brokerage International, Sam Robinson of Robinson Lumber Company, and Caroline McIlvain of J. Gibson McIlvain Company were re-elected to new three-year terms.
"Our packed agenda confirms that the World of Wood is the leading venue for the critical players in our industry to gain the latest intelligence and collaborate on emerging issues," said IWPA Executive Director Cindy Squires.
270 importers, U.S. manufacturers, wholesalers, offshore suppliers, and service providers to the global wood products industry from 27 countries attended this premier annual event. Highlights included a leadership session and breakout with Mark Horstman, co-host of the Manager Tools podcast, the #1 business podcast in the world. Another session offered a deep dive on the latest compliance rules on Prop 65 and EPA/CARB Formaldehyde Regulations. IWPA's Advance Wood Trade Compliance Course was also offered to attendees to learn more about sourcing strategies, risk assessment methods, and validation of supplier compliance to requirements. And, back by popular demand, the Supplier-Importer Exchange and Lunch allowed attendees to connect with wood products suppliers from around the world over lunch.
Next year's 64th World of Wood Annual Convention will take place April 1-3, 2020, at the Hyatt Regency overlooking the Savannah River in historic Savannah, Georgia.
"Our industry is living through turbulent times, but we always rise to the challenge," Incoming President Kenny MacMaster said. "I look forward to serving IWPA to help shape our strategic vision as we navigate the new dynamics of global trade policy, environmental compliance, and the many other issues that we face. We can't wait to see everyone next year in Savannah!"
Established in 1956, the International Wood Products Association (www.IWPAwood.org) is the leading international trade association for the North American imported wood products industry, representing 220 companies and trade associations engaged in the import of hardwoods and softwoods from sustainably managed forests.  Association members consist of three key groups involved in the import process: U.S. importers and consuming industries, offshore manufacturers and the service providers that facilitate trade.