Cascade Commits to Multi-Year Support of RAHC and Issues Peer Challenge
---
Cascade Hardwood LLC Announces Its Commitment to a Multi-Year Contribution to the Real American Hardwood Coalition Promotion Efforts
Cascade Embraces the Coalition And Issues a Call to Their Peers that the Easy Part
of Promotion is Writing the Check
Chehalis, WA USA: The Real American Hardwood Coalition (RAHC) is engaged in a multi-million dollar promotion campaign that's designed to inspire and educate consumers on the benefits of Real American Hardwood products. This comprehensive campaign touts the advantages of hardwood lumber through an interactive and informative experience at RealAmericanHardwood.com, a robust social media strategy, and exciting digital content integrations and partnerships. With increased support, the RAHC is planning a comprehensive public relations campaign that will ensure the Real American Hardwood brand becomes iconic in 2023 and beyond.
Cascade Hardwood fully supports the efforts of the Coalition as this type of well-supported, industry-wide effort can only help North American hardwood lumber producers, distributors and hardwood-using manufacturers. In support of this effort, Cascade Hardwood LLC is pleased to announce the support of the program with a $75,000 per year, 5 year commitment.
Jon Syre, President of Cascade Hardwood LLC and the current President of the National Hardwood Lumber Association notes, "The Real American Hardwood Coalition has really zeroed in on many of the key drivers of hardwood demand by focusing on connecting with consumers early in their decision-making process, where they can quickly recognize the benefits of temperate hardwood lumber from North America. In addition, the Real American Hardwood Coalition's broad focus on incorporating identifiers of the program in stores, online in websites and social media, in print, and eventually on television will keep our products front and center of all demographics of the buying public. Because of this laser-focus, our team at Cascade is excited to support the Real American Hardwood Coalition plan for years to come."
The team at Cascade believes their involvement should reach beyond simply writing a check to support the Coalition's efforts. Cascade is also announcing an initiative within the company to brand each of the 180+ units manufactured each day with a smartphone to load the RAHC website, which covers their promotional efforts in detail. The plan is to reach out to the broad base of distribution and manufacturing customers across North America and challenge them to carry the tag idea to the less-than-truckload units shipped by many distributors and to the packaging for the finished goods made by cabinet, furniture, door and moulding/millwork customers. Sample photos of the tag and its use on an outgoing truckload of lumber are shown below.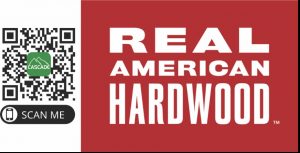 For any company that is interested, please contact Jeff Tapfer at Cascade by email at jefft@chgsales.com and we can help put you in contact with our vendor for the tags.

In addition, we can create a unique QR Code and tag template tailored specifically for your company.
Cascade Hardwood challenges all our peers to demonstrate your support for the Coalition by using these tags to create awareness of the Real American Hardwood logo and what we all are working towards accomplishing.
Cascade Hardwood LLC believes the Real American Hardwood Coalition has the first genuine opportunity to effectively promote the use of North American hardwood across North America and around the world. This work starts with commitments from the many companies who have built successful businesses around one of the most renewable resources in the world. It's time to get the word out.
Please watch a short 1-minute video on the importance of branding and creating awareness from the Real American Hardwood Coalition titled "Becoming Iconic." Becoming Iconic – Real American Hardwood Coalition at www.realamericanhardwood.org/becoming-iconic
To learn more about the Real American Hardwood Coalition and to become a supporter, click on the box below.