PINK Log Truck Trailer Honors NC Logger's Mom for Breast Cancer Awareness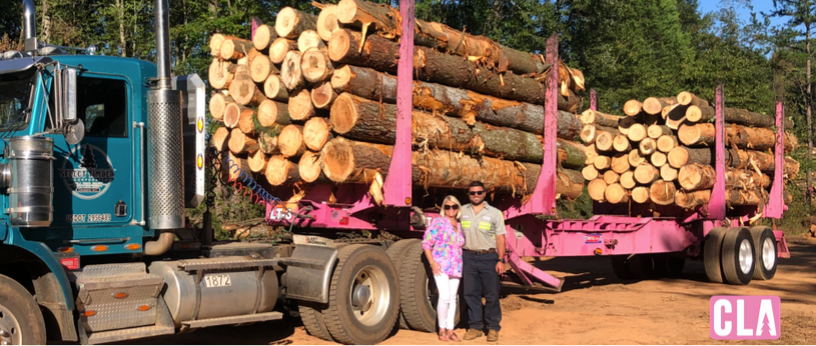 FOR IMMEDIATE RELEASE: September 30, 2019
Ewell Smith
Carolina Loggers Association
(504) 884-4585
esmith@ncloggers.com
Carolina Logger Zack Meyers Paints His Log Trailer Pink in
Honor of His Mom Leanna
Zack Meyers was a young child when his mom, Leanna Meyers, was diagnosed with the early stages of breast cancer around 2006. His mom's struggle left a long lasting impression on Zack, his dad Craig, and his three sisters Drew, Chandler, and Andie.
Zack is a fourth generation in the wood business. His great, great grandfather Harold Meyers got into the business of logging the land used to build Lake Norman. Shortly after graduating high school and attending college, Zack started logging to pursue the business he had grown up around his whole life. Eight years ago, Zack started Select Timber Services.
Today, Zack's dad is still involved in the wood business helping Zack with every aspect of it. As he and his dad were determining one day what to do with an old trailer that needed repairs; they decided to not only fix it, but to use it as a way to honor Zack's mom Leanna who had been through so much. Leanna does the books for the business along with Zack's wife Laura.
Today, you can't miss the Select Timber Services' pink log trailer on the road.
"We must do everything we can to save lives. This means we are focused on finding breakthroughs for the most aggressive and deadly breast cancers and ensuring all people receive the care they need. With this unique trailer, Zack is literally driving a sense of urgency behind breast cancer awareness and the tragic reality of this disease. We are truly inspired by his commitment to ending breast cancer and honoring his mother, who is a survivor, in this way." said Pam Kohl, executive director at Susan G. Komen® NC Triangle to the Coast.
"The pink initiative is for a good cause," says Zack. "It's good to get everyone on board. I saw what cancer did to our family and how hard that was on my mom and all of us. Cancer in general is a nasty, nasty thing. God willing, my mom's still here and cancer free after a rough few years. With all the money that's going toward fighting cancer, there's going to be a cure one day."
Since 1982, the Susan G. Komen for the Cure has used the color pink. It all started with a pink ribbon as part of their logo design for the first Komen Race for the Cure. "By painting his trailer pink in honor of his mom's courageous fight, Zack's leading efforts of our Carolina logging community. This October we're joining other organizations from across the globe helping to raise awareness with the CLA pink logo to fight cancer," said Ewell Smith, Executive Director, CLA. "We're getting the word out to and through our logging community to support the local Susan G. Komen® NC Triangle to the Coast chapter. Please visit www.komennctc.org or the national site https://ww5.komen.org to learn more and make donations. You may call their office directly at (919) 493-2873.
After being cancer free for over a decade, Zack's mom Leanna runs to this day the Susan G. Komen Race for the Cure to raise awareness to help others.
The Carolina Loggers Association is a nonprofit organization dedicated to promoting logging professionalism and business opportunities for the state's forest products network. Activities include acting as a unified voice for NC timber harvesters; offering networking and business contact information; education programs; and promoting and aiding in state certified logger education programs. Complete information is available at www.ncloggers.com.
Komen NC Triangle to the Coast (NCTC) Komen NC Triangle to the Coast is helping fuel research, advocate for patients and support people facing breast cancer locally through a variety of direct patient-centered services and by collaborating with area providers to remove barriers and connect people to needed care across its 29-county service area in central and eastern North Carolina. Komen NCTC has invested more that $14 million in community breast health programs in its 29-county service area and has helped contribute over $5 million to the more than $988 million invested globally in research. For more information, call (919) 493-2873 or visit www.komennctc.org.